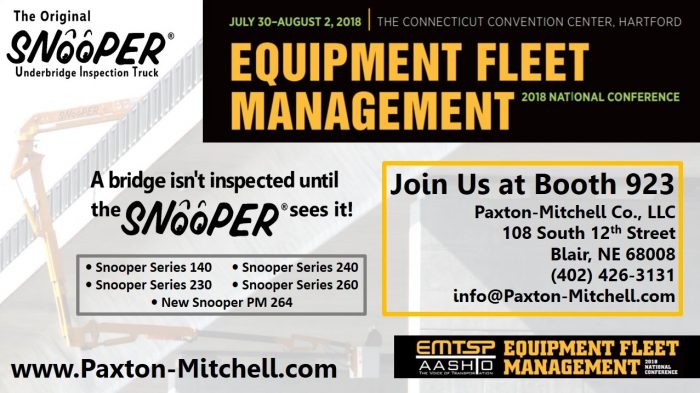 Join the Paxton-Mitchell Co., LLC's team at the Equipment Fleet Management 2018 National Conference – Booth 923
The event will be attended by highway equipment fleet managers, administrators, directors, engineers from the state, local, and federal governments, representatives from the highway maintenance and equipment industry, academic and research participants, and members from the AASHTO and the TRB.
The conference will feature technical presentations from experts and panel discussions on various fleet management issues by representatives of the highway equipment industry, state DOTs, the federal government, research, and academic communities. Break-out sessions and business meetings will be provided for the four EMTSP Regional Partnerships, and a forum to share equipment fleet management strategies and best practices will be provided.
This conference will afford the opportunity to learn about national initiatives, current, and future research projects by AASHTO and TRB, as well as technological advances in equipment technologies.
Connecticut Convention Center
100 Columbus Blvd, Harford CT 06103