Designed for Underbridge Access Inspections, and Bridge Maintenance work.
First Boom
Hinged to the masthead and provides a minimum of 19 feet horizontal reach. It rotates hydraulically 360 degrees and tilts from 40 degrees above to 20 degrees below horizontal, which will allow placement of booms over fences a minimum of ten feet (10'), in height. At the outboard end, the boom is to be equipped with a hydraulically operated second turret, which can be rotated a minimum of 270 degrees, enabling second and basket boom or platform to be placed laterally along the side of the bridge deck, as well as rotating underneath.
Second or Elevator Boom
Hydraulically telescopes from 18' to 29', extending downward.
Available in either Basket or Platform Snooper configurations.
The third boom hydraulically telescopes from 20' to 32'. The fourth or basket boom telescopes from 7' to 9'6" and it is pin mounted to the outboard end of the third boom. The metal basket is 60" long X 36" wide X 42" deep, with a minimum capacity of 600 lbs. mounted at the boom tip. Scoping and articulation of booms will enable horizontal extension from the outer edge of bridge deck under and across up to 51'6", from the centerline of second turret 55'. With booms tilted downward, the vertical reach shall be approximately 52'-8" below a bridge deck. Overhead capabilities will allow positioning basket 45' above grade with the second boom above ground level.
The work platform hydraulically telescopes from 22 to 34 feet long and features a 1,500 lb., working capacity. Overall underbridge reach is 41 feet.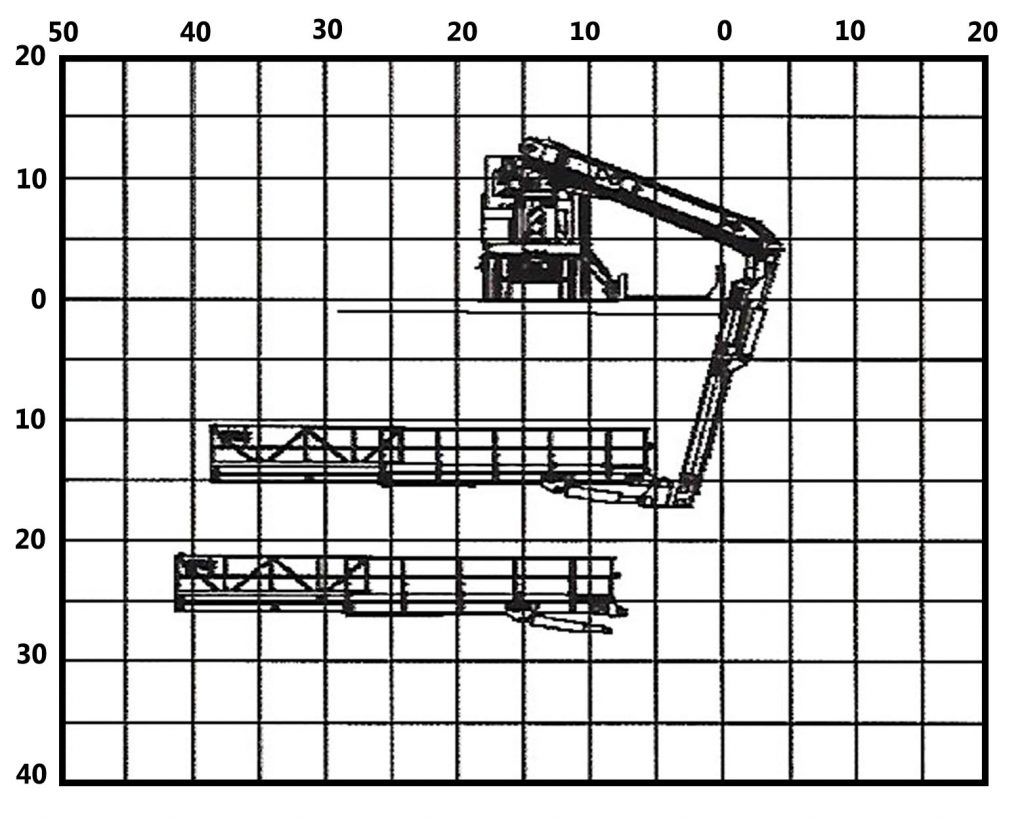 Two rotating turrets • Microprocessor controlled boom limiting and safety system • All steel construction • Proportional electric over hydraulic controls
Operates in One Lane
The Snooper Series 240 requires only 10' with stabilizer down, less than one lane of traffic. The total vehicle weight is under 64K lbs. and front axle will not exceed 20K lbs. Rear tandem, 44K lbs.
360 Degrees Inspection
The 360 degrees turn capability allows the Snooper Series 240 to be operated from either side of the truck.
Proven Quality
All components are brand name, American-made, manufactured and assembled in the United States.
Compliant with ANSI A92.8-2012 for Vehicle-Mounted Bridge Inspection and Maintenance Devices