Designed for Underbridge Access Inspections, and Bridge Maintenance Work.
First Boom
The first boom provides a minimum of 18'6" (19') in length.
Second Boom
The second boom provides a minimum of 18'-6" (19') in length.
Third Boom
The third boom hydraulically telescopes from 25' to 41' pin to pin.
Fourth Boom
The fourth boom or basket boom telescopes from 6'5" to 9'. The Snooper PM 264 is available in Basket (600 lbs. load capacity) configuration.
• 64' Horizontal Reach
• Dual Side Deployment  
• 2 Rotating Turrets
• Cross 14' Sidewalk
• Cross 12' Fence  
• 180 degrees Rotating Bucket
• Auto-leveling Bucket
• Extendable 4th Boom
• Under 67,500 lbs.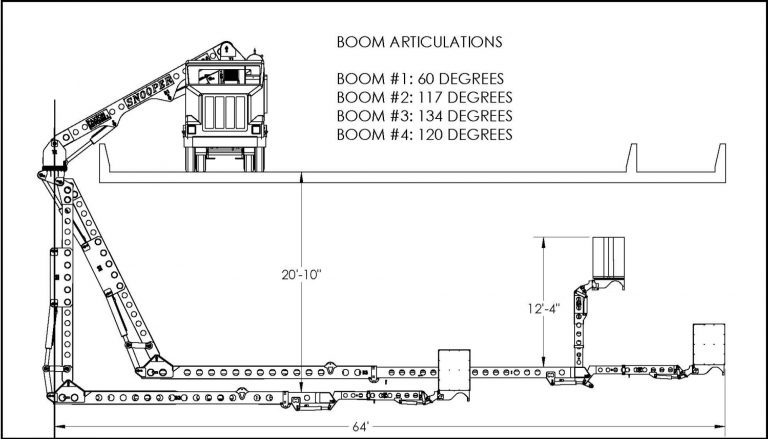 "All dimensions and specifications are subject to change pending final design" and "We reserve the right to modify the specifications described herein without notification."
Operates in One Lane
The Snooper PM 264 operates in One Lane
360 Degrees Inspection
The 360 degrees turn capability allows the Snooper PM 264 to be operated from either side of the truck. Dual Side Deployment.
Proven Quality
All components are brand name, American-made, manufactured and assembled in the United States.
All Paxton-Mitchell Co., LLC SNOOPER® Series Cranes manufactured after 12/10/2018 are compliant with ANSI A92.20-2018 standards for Vehicle-Mounted Bridge Inspection and Maintenance Devices