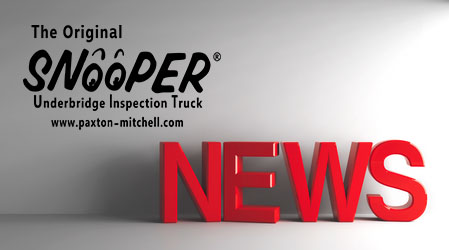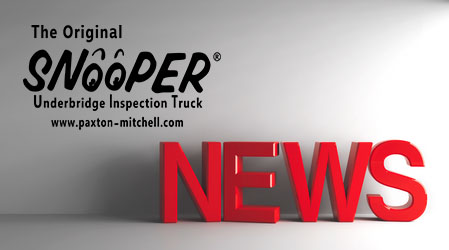 News Release 07/18/2018 – Change is on the horizon for Paxton-Mitchell Co., LLC
Blair, NE – July 18th, 2018
News Release:
Paxton-Mitchell Co., LLC. announced today that there has been a change in ownership. Paxton-Mitchell Co., LLC. was initially incorporated in 1901, and built a solid reputation by designing and manufacturing the world's first Underbridge Inspection bucket truck in 1964. It was appropriately named the Paxton-Mitchell Snooper Truck. The word "SNOOPER" is a registered trademark of the Paxton-Mitchell Co., LLC.
Leading the Paxton-Mitchell team in Blair Nebraska is the General Manager, Mark Pfeffer, the Senior Engineer, Joe Craig, Mechanical Design/Project Engineer, Jared Evers, and National Sales Director, Brandon Greer.
Change is on the horizon for Paxton-Mitchell. For over five decades the Paxton-Mitchell Snooper Truck has been the most recognized name in Underbridge Inspection Trucks. Now, there are plans to debut a brand new Snooper Truck in the fourth quarter of 2018. The Snooper PM 264 features a 64 ft. horizontal reach, a dual-side deployment; it can reach over a 14 ft sidewalk, a 12 ft fence, an extendable fourth boom, and moreover, it does not have outriggers.
The Paxton-Mitchell website has also been under re-construction. According to Maria Carpio, the Director of Marketing for Paxton-Mitchell Co., LLC, "The new and fresh look for the Paxton-Mitchell website highlights and creates value and responsive resources across all platforms to provide informative and relevant customer support, training, and preventative maintenance for all Snooper Trucks." The website is live today.
Mark Pfeffer-General Manager has been with Paxton-Mitchell for over three decades. He stated, "I am very impressed with the direction we are taking the Snooper product line. We are taking the Snooper, an excellent product, and making it better. Today's bridges have new challenges, such as broader pedestrian walkways or fences on a bridge deck. The Snooper PM 264 still has the longest first boom in the industry to reach over pedestrian walkways or fences."
Paxton-Mitchell Co., LLC., will be an exhibitor at the upcoming Equipment Fleet Management 2018 National Conference at the Connecticut Convention Center from July 30 through August 2, 2018. The event will be attended by highway equipment fleet managers, administrators, directors, engineers from the state, local, and federal governments, representatives from the highway maintenance and equipment industry, academic and research participants, and members from the AASHTO and the TRB. This will be Paxton-Mitchell's second consecutive year exhibiting at the conference. You can visit the Paxton-Mitchell team at booth No. 923.
About Paxton-Mitchell Co., LLC
Paxton-Mitchell Co., LLC. is the designer and manufacturer of the One and Only, the Original SNOOPER® Truck. The SNOOPER® is the world's most widely used Underbridge Inspection and Maintenance Truck.
In 1964, the first "SNOOPER®" Underbridge Inspection and Maintenance Truck was designed and manufactured. Today, the SNOOPER® has been sold all over the United States to state highway departments, municipalities, counties, contractors, and construction equipment rental companies. They have also been sold overseas. All components are a brand name, American-made, manufactured and assembled in the United States. Our slogan says it all: "A bridge isn't inspected until the SNOOPER sees it!"
Total Bridge Coverage
That's what you get when you operate Paxton-Mitchell Co., LLC's world-renowned SNOOPER® line of bridge inspection trucks.
These multi-purpose units provide the most extensive reach capabilities for a wide variety of bridges, trestles, and viaducts. The fully hydraulic, easily mobile crane allows operators to be positioned exactly where they need to be to perform any under-bridge task. Once in position, as many as three operators can work.
Durable, quality construction features safety check valves on every hydraulic function and deadman controls. The hydraulically extendible second boom allows the platform or basket to be deployed over tall fences or under deep girders. Workers are placed right at their work; up in the structure or along the bottom of beams.
Paxton-Mitchell Snooper Truck models
Snooper Series 140- 41ft horizontal reach
Snooper Series 230- 33ft horizontal reach
Snooper Series 240- 41ft horizontal reach (platform) to 52ft horizontal reach (basket)
Snooper Series 260- 60ft horizontal reach
Snooper PM 264- 64′ horizontal reach, cross 14ft sidewalk, clear 12ft fence
All Paxton-Mitchell Co. LLC SNOOPER® Series Cranes are compliant with current ANSI A92 standards for Vehicle-Mounted Bridge Inspection and Maintenance Devices.
Media Contact
Name: Maria Carpio
Title: Director of Marketing
Phone: (402) 426-3131